The University Challenge trophy
The series winners receive a specially commissioned stainless steel trophy designed by Manchester sculptor, Adrian Moakes, in 1994.
Winners have to return the trophy after the final is televised, the year following their victory. They are then given a replica trophy, which is a framed, flat piece of steel with the same design engraved on it, and a small plaque at the top recording the occasion of victory. We finally received ours in August 1997 and has vanished into the archives of Trinity.
University Challenge trophy (1995-2004)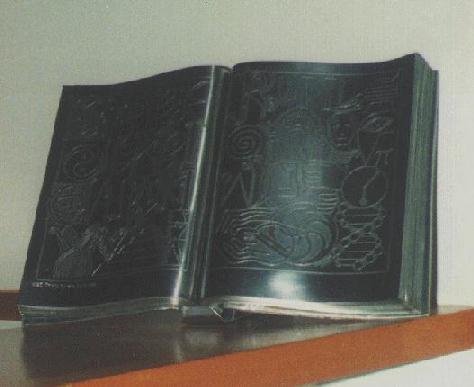 The first trophy of the Paxman era was in the shape of a book, engraved with various symbols in 4 rows. The first and third rows spell the words University and Challenge respectively, each letter in a different script (eg Russian, semaphore, Braille, Hebrew etc). The second and fourth rows spell out Adrian and Moakes, the name of the designer, in even more cryptic scripts. This design is the same as the one which appeared on the glass backdrops behind the two teams in the show's 'blue' format until 2000.
After the first final was televised, it spent April-Nov 1995 in the Porter's Lodge in Trinity College, Cambridge, before being temporarily returned to Granada for the filming of the 1996 final. Upon being sent back to Trinity, a porter managed to shove it away in a college store cupboard out of sight for 5 months until Granada requested its return, so it could be given to Imperial. Trinity claimed it no longer had the trophy, and only when Granada produced a porter's signature were the store cupboards searched and the trophy refound. It spent the next year on display in the entrance hall near the students' common room and new library in Imperial, and was handed down to each successive champion until Magdalen College, Oxford won the series for the third time. At this point, in Jules Rimet style, they were awarded the trophy in perpetuity and it is now displayed outside the Bursary at Magdalen.
My rubbing of the first trophy, in two halves, can be accessed below:

Left half of the trophy

Right half of the trophy
Each of the members of the series winning team in the 'Professionals' series received an individual flat, framed steel trophy, much like that given to the institution in the students' series, but the image was a representation of the show's new title sequence. A close up may be seen here.
University Challenge trophy (2004-)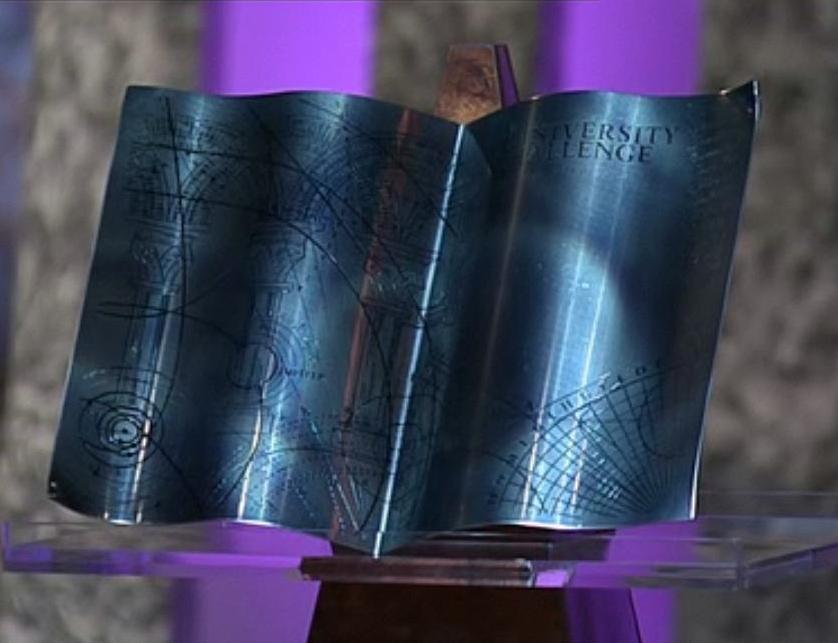 After Magdalen were granted the original trophy, a new one was commissioned and again given to the winning institution to look after for a year. Although Manchester won for a third time in 2012 and then a fourth time in 2013, they were not given the trophy to keep and the same trophy is still awarded.